HITRUST Essentials 1-Year (e1) Certification
The HITRUST Essentials, 1-Year (e1) Validated Assessment + Certification adds additional options for flexibility and efficiency to the HITRUST portfolio. The e1 allows low-risk organizations a widely accepted, validated assessment option that is faster and more streamlined than other certifications. It can also be used as a starting point for organizations in the early stages of a HITRUST journey.
Faster, More Streamlined Assurances - The e1 focuses only on essential information security controls to ensure Foundational Cybersecurity is in place. The e1 controls address fundamental information security practices, and are based on authoritative sources such as CISA Cyber Essentials, Health Industry Cybersecurity Practices (HICP) for Small Healthcare Organizations, NIST 171's Basic Requirements, and NIST IR 7621.
Cyber Threat-Adaptive Approach for Added Protection - The entire HITRUST assessment product portfolio uses the HITRUST CSF® framework to provide cyber threat-adaptive controls appropriate for each level of assurance – including the e1. HITRUST analyzes trending cyber threat intelligence to maintain relevant control requirements designed to mitigate new and emerging risks including phishing, brute force, and ransomware.
How the e1 Fits into the HITRUST Assessment Portfolio
The e1 Essentials Assessment requires less effort to complete and falls below the level of assurance conveyed by the more rigorous HITRUST i1 and r2 Assessments. The e1 provides the right level of assurance for organizations that pose low levels of risk. The e1 also provides an excellent starting pint for progressing to a higher assurance level. The e1 Readiness Assessment can be used to prepare for a future e1 Validated Assessment + Certification.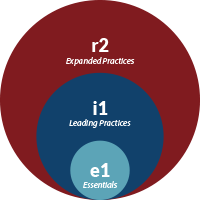 Leverages current threat intelligence trend data to update control requirements and proactively defend against emerging threats.

Accelerates and simplifies the journey to stronger assurances by allowing reuse of e1 work in other HITRUST Assessments.

Unlike typical questionnaires, provides a scored and validated assessment over key controls curated by HITRUST, which offers more in-depth and Rely-Able™ assurances to stakeholders.

Uses a consistent methodology and framework to enhance expertise of operational teams and stakeholders.

Focuses on the control implementation maturity level.

Provides a 1-year Certification.

Includes an e1 Readiness Assessment option to prepare for an e1 Validated Assessment + Certification.